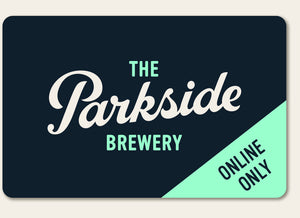 Give the gift of beer with a Parkside online store e-gift card! 
This e-gift card is ONLY REDEEMABLE ONLINE. It cannot be used in person at the Parkside Tasting Room. 
After checkout is completed, you will receive your e-gift card code by email.  
If you'd like to purchase a somebody a gift card to use at the tasting room, please select this product instead, choose pickup for the shipping option, and enter the name of the person who will be picking up in the shipping address section.